Thu, 11 Apr 2002
Thursday: Inverell — Bundarra // at 23:59
Today: ??km
Trip total: ??km

I wasn't here, I was on the RTA Big Ride.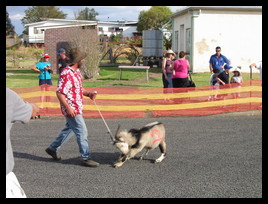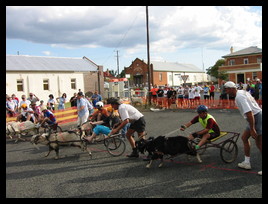 In the afternoon, in the main street, Goat Races. Promoted at great length by the organizers as a fun thing to do and the place to go. I don't think anyone realised that the goats in question were feral and had only been captured the day before. As the locals kicked and belted the terrified goats to get them out from the pen and into the harnesses, fewer and fewer of the riders stayed to watch. The RSPCA would probably have been very unimpressed. A few souls volunteered to ride the billy carts, Ratty being one. He had an event filled career as a goat rider, short that it was. Fourth, third and then second places, but would probably have placed higher if he could have convinced the goat to stay on the course and not ram the barricades.
Stormclouds were starting to appear in the east but we were assured by the locals that there was nothing to worry about, that it only ever rained when it came from the north.
We all adjourned to the pub and queried the publican, since the stormclouds towering up from the east were getting darker and closer, "Nah mate, it won't rain." Five minutes later it was absolutely pouring down, we could barely see across the beer garden.
Making our way back to the campground after the rain had stopped, I managed to lose first my gloves — by leaving them in pub — and then my sunglasses — when they fell out of my pocket as I carried my bag. Finding our bags at dusk was a major problem, they were hidden at the far side of the campground with no signs around them and no lights above them. The evil-smelling wet gloves were recovered later that evening from the lost property, but the sunglasses never returned. I've still got the spare lenses if anyone wants them...
Where?
Photos for 2002-04-11 // at 00:00