Thu, 08 Aug 2002
Engaged signal // at 23:59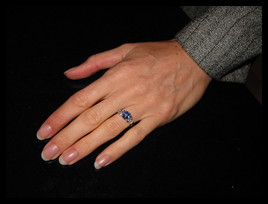 "Would madam like a ring with her breakfast?"
I don't think the two of us could stop grinning or laughing. Half of it is relief that we've finally got the bloody thing and don't need to spend out weekends surreptitiously shopping.
Jo decided not to wear it to work, not just yet, she felt strange not having told her family.
This evening we hit the phones and I called my parents and brother, I tried my sister first, but as usual she was outside with the horses, so she didn't get to be the first to know. Calling mum and dad was funny, all the normal bits of conversation regarding the weather and health and work etc all seemed to drag out to an eternity before I could find a gap to drop the news into.
To celebrate we walked up the street and had dinner at Saragosa. As usual their food was impeccable, the unexpected bonus this evening was the after dinner drink suggested by the waitress. An incredibly dark, flavoursome Spanish sherry — "Leyendra Pedro Ximinez" from Jerez, Spain, I'd love to get hold of a bottle to have sitting on the shelf for sipping on those cold winter evenings.
Photos for 2002-08-08 // at 00:00