Sat, 07 Sep 2002
untitled // at 23:59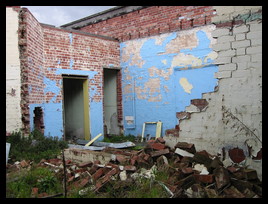 While walking up the street this morning and passing "the door that is never open" we noticed that it was open. Peaking inside shows a fascinating piece of Richmond falling into disrepair. The front of the shop has been boarded over for as long as I've seen it—probably four years at most—but there's no indication of any development, any owner, or any activity whatsoever. I wonder how long its been like this, and what its future holds....
Fun and games filling out YHA membership renewals online. The stupid website designer makes you enter all of your name and address details, then sends you to a page where you enter your membership number, which presumably is already part of a record of all that information. You can also register for a "membership" on their website, this is completely separate and has no link with your YHA membership. Then every time that you make a booking or a purchase, you have to enter all of your name and address details again!
Evil wedding chores caught up with us for the rest of the day—driving around to assorted venues checking their suitability. In true Jo and Adrian fashion, the first one we saw ended up being the one we decided on—I think the subconscious had done a lot of pre-selection before we actually visited anywhere. The venue itself was made even more appealing by their cider and apple brandy, together with brochures and maps for their holiday house in Belvés, southern France—I think I rode past on our days near Sarlat in June last year.
Reminder to self: Kellybrook winery, 12th April, 2003—be there.
Photos for 2002-09-07 // at 00:00