Yet another morning spent reading in Reading(51.4333333,-1.0). I seem to remember spending most of my time at Elizabeth's house lying around on the couch reading novels. I did remember to check the clocks though, so as not to get caught and miss the train.
About lunchtime I walked into town to the station to find a train to Brighton. I had managed to cram enough clothes and stuff into my shoulder bag, including an empty pannier, to make overnight survival a non-event, and should have no problem carrying it all back tomorrow on the bike.
Tickets are £19.90, and there were two trains I could catch, either direct to Brighton at 13:07 or via Gatwick at 12:34. I aimed for the earlier train, then missed it when I ducked up the street to find a postcard for yesterday. Strangely, none of the myriad of shops inside the station sell postcards.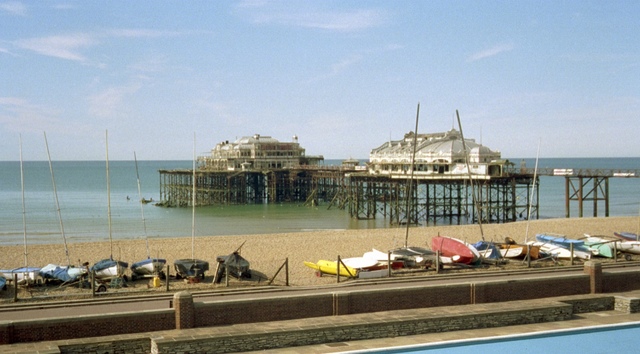 A relaxing afternoon sitting in the comfort of the train, watching the countryside rush past, feeling the sun on my face, and just generally enjoying life on my way to be reunited with Norky bike.
Once at Brighton I spiralled around trying to find a place to stay, ending up in a rather dishevelled looking B&B only two streets from where Andy and Suzie live! Managed to include the tour of the piers, the beach front, the poky little alleyways, and all the other touristy bits of Brighton along the way.
A measure of the B&B was when my keys fell off the desk and wedged down behind it in my room. Attempting to tilt the (nailed down) desk forward I managed to recover not only my keys, but also several pens, pencils, and four ancient pornographic magazines.
I caught up with Andy and Neil for dinner at a nearby pub, then a pint or two, then back to the dingy room to sleep.
Where?
Reading(51.4333333,-1.0), Brighton