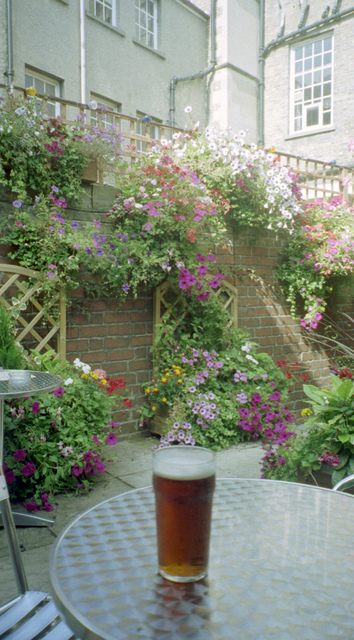 I thought of packing up some clothes and heading up to Derbyshire to visit relatives, but it all seemed too much effort. Instead I decided to go to Oxford for the day. Caught the train there and spent an afternoon walking around and being a tourist.
Magnificent old buildings and shops. Stopped to recuperate with a beer in a lovely little pub called 'Old Tom' with its tiny beer garden overgrown with flower pots, petunias and fuschias. Sadly the barman said he might have to remove them due to insurance concerns of drunk patrons either falling over them, or damaging them!
The trip home was slow due to a typical British train problem. The express that I was on got stuck behind a "stopping-all-stations" local train, along the way the air-conditioning stopped working as well, so it was a hot, slow, tedious trip back to Reading(51.4333333,-1.0). However, unlike my from Oxford to Reading(51.4333333,-1.0) at least nothing ran into us!
Somewhere along the way I saw an add for an interesting bike ride. £250 for 8 days along the Nile! 10-17, or 17-24, February 2002. See http://www.mencap.org.uk/ for more details.
Where?
Reading(51.4333333,-1.0), Oxford