| | dst. (km) |
| --- | --- |
| Today | ??.? |
| Trip total | ??.? |
| Odometer | 2996.9 |
This morning the weather had cleared up again and the winds seemed to have dropped. There was a magnificent view from the headland overlooking Te Araroa Bay, unfortunately heavily overgrown with prickly gorse that had no problems in penetrating lycra and skin, and then sticking to us, so that when we got back on the bikes it could attack again.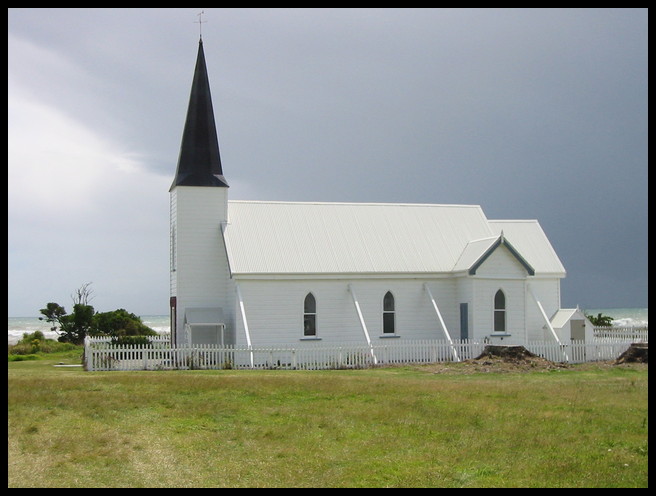 Unfortunately we found that the wind hadn't really dropped, it had just swung around so that we were protected by the headland, once over the top we had it straight in our teeth, for the first hour of riding we managed 12.5km, over the rest of the day we gradually increased our speed to an average of 15.6km/hr! Some of the gusts were scary, threatening to blow us right off the bikes.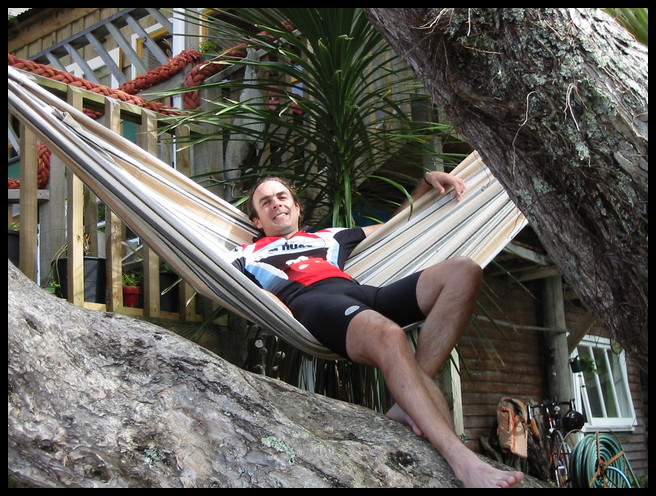 The bracing on the church at ??? showed that today's winds weren't unexpected, out on an exposed headland it seems about ready to slide off into the Pacific ocean. The black clouds in the background are the storm that we raced to Maraehako Bay.
Storms, wind, rain… Maraehako Bay made it all worthwhile! The sign on the road is almost invisible, but once you're down at house and have experienced Piri's hospitality, you'll never want to leave!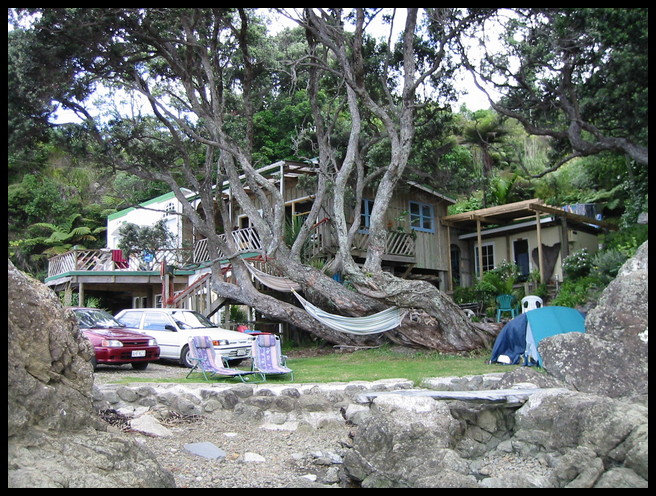 Maraehako Bay is a magic place. Its the kind of place that you feel The Beach was written about, a backpackers' on a tiny bay, unknown to the great majority. The driveway itself is frightening enough, after turning off the main road you appear to go across a paddock and then plummet straight over a cliff towards the bay. An old caravan parked at the bottom serves as emergency brakes for anyone who cannot stop in time.
Some brief negotiating by Phil — and a short trip by Piri out in his boat — had us eating a fresh crayfish meal for the grand total of $20 a head! This was for a whole cray each, which was so rich we could barely make it through the first half. Unfortunately I discovered that I had a slight allergy to that much seafood — something I've never experienced before — and later in the evening my lips puffed up as though punched, and my eyes drove me nearly crazy with their itching. It's probably a good thing, since developing a taste for that much crayfish would probably lead to $100 a head meals back home in Melbourne!
Where?
Te Araroa (37°S, 178°E) Maraehako Bay