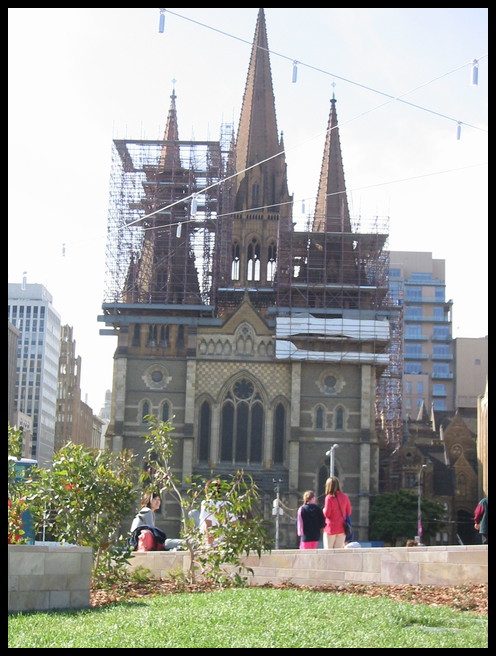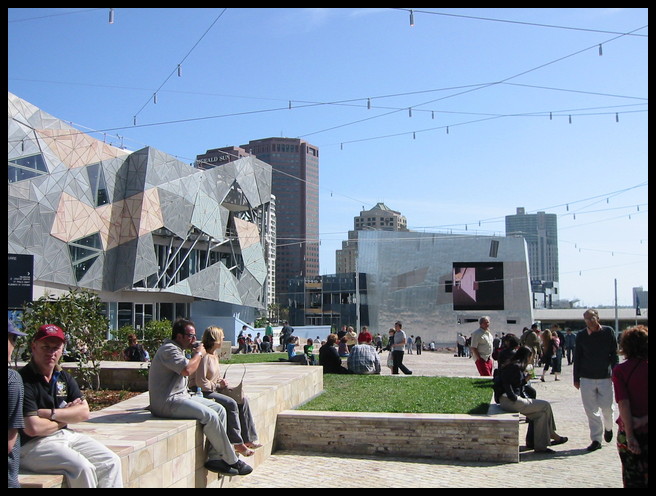 The old and the new — restoration of St Paul's cathedral and the newly opened Federation square.
I'd been wanting to take a look around the square, I like the design, the architecture. I also like the fact that it inspires people enough to detest it and write scathing letters to editors, rather than just being blandly uniform.
There was a fashion shoot going on in the main atrium, and we didn't get there until 4.00 pm, but even so there was plenty of time to look around the galleries and open spaces. It should be even better when access to the river, and Birrarung Marr is opened up.
None of the cafés are open yet, so over the river to Southbank for a snack, then off to see a movie. Ten Vietnamese spring rolls were ordered, ten appeared on a plate, both Jo and I swear that we'd eaten five each, yet one remained…. The only possible explanation is that aliens had teleported an eleventh spring roll onto the plate.
Being good, civic-minded citizens, we attempted to purchase train tickets for the trip from Flinders Street to South Yarra — machine number one took our money and issued tickets, but machine number two refused to take our tickets and validate them. I guess we just put them in our wallets for later…
There hasn't been much on at the cinemas recently that has inspired either Jo or I to go out, but in order to use up my free Palace pass, we headed over to Como to see Time Out. Very, er, "French" or "arthouse", or whatever else you'd use to describe a movie that was intriguing, but seemed to drag on interminably. The last scene was a surprise, after what I thought was the end, a particularly black ending, there was a final scene that all too neatly tidied things up — almost as if some test audiences hadn't liked the original ending.