Off into the city this afternoon to shop around for Joey's birthday present — I know what I want, I just can't find it! Eventually successful, not only that, but the shop in question had the book on sale! Along the way I checked out the Lego Mindstorms that Dick Smith has — it's getting very tempting as a present to myself! None of the other chain stores had it, so price checking wasn't possible, but I did get to see all the current cool bits of Lego that they do have — like the Bionicle robot thingies. Of course, like every other piece of merchandise these days, they have their own website at http://www.bionicle.com.
Two new CDs also managed to fall into my hands; Rob Snarski and Dan Luscombe's "There is nothing here that belongs to you" as a present for Jo, and Death in Vegas' "Scorpio Rising" for me. The first one was hard to find, filed under S where I'd been looking under L, the second was a bit of a wild card, without hearing anything other than the single "Hands Around My Throat" I was hoping I'd enjoy it as much as "The Cantino Sessions."
Viewed from the tram on the way home: a 20-something girly, arms waving wildly around as she was freaking out in Bridge road. The source of her problem — her car bent neatly around the nose of another tram. I guess she didn't see it…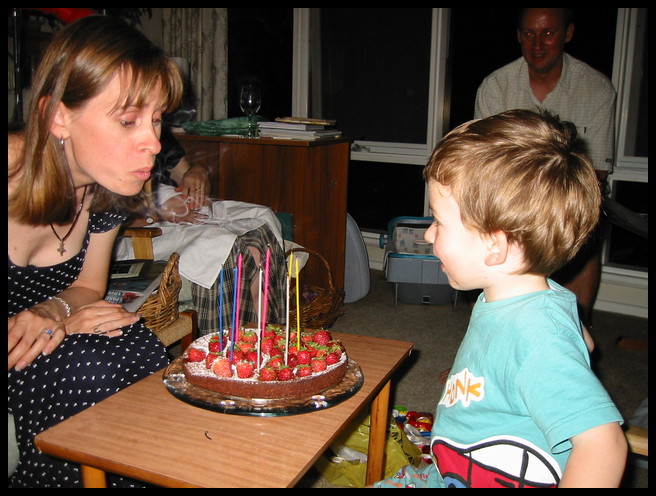 Birthday dinner for Jo with Jo's family — Jack still happily believing that all birthdays are for him, leaping in and blowing out all available candles.