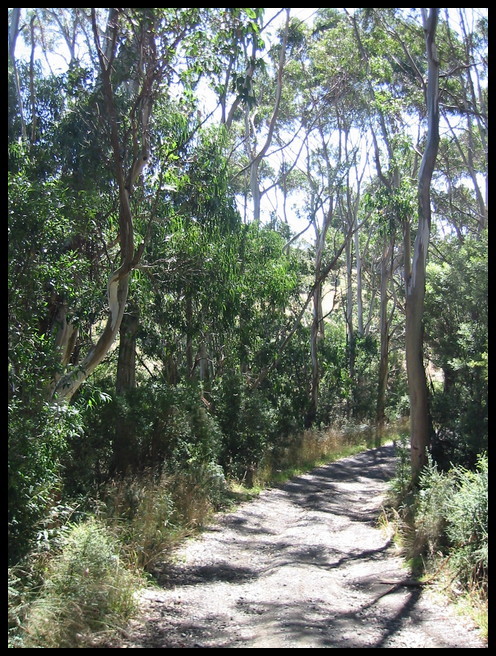 Off for a walk today. Prerequisites were that it wasn't somewhere that we'd been before, it had to be interesting, and it had to be easy enough to get too. One of the "Great Ocean Road Walks" seemed to fit the bill — a loop between Skene's Creek and Apollo Bay, so into the car we got…
Grey skies in the morning, grey skies all weekend, we left the sunblock and hats at home… driving towards Apollo Bay the sky cleared, the sun came out, the temperature rose, and worst of all, most of the four-hour walk was out in the open, unprotected from the sun. Both of us got sunburnt, Jo on the shoulders, me mostly on the forehead and face.
Parked at the end of Wild Dog road, where it joins the Great Ocean road, and headed off up the valley, following the creek. In only a couple of minutes we were away from the noise of the traffic and could have been anywhere. Much the same as everywhere else we've been this weekend, fruiting blackberries were in abundance, together with quite a few apple trees grown from cores discarded out of car windows — none of the apples were quiet ripe, very tart and too tough to bite into.