| stats. | |
| --- | --- |
| Today | 76.0 km |
| Trip | 293km |
The ride from Bacchus Marsh to Melbourne is always a bit of a slog — first there's the seemingly endless plains of red dirt and rocks, broken only by the great swooping descent into the gorge over the Werribee river, then there's the interminably mindless eight kilometres along the Western Highway with the mind-numbing roar of the traffic and the ever present danger of the idiot's towing their caravans and not realising how much wider than the car the 'van is.
Today was no different. Medium headwinds to make the flat portion even less fun, the bridge over the river had been severely damaged in the floods a few months ago so there was no screaming descent to be had — we had to brake at the bottom and walk across through the road works. The ride along the highway was no different to usual, ending in Deer Park, a place that seems to contain neither deer nor any kind of park except a car park. From there Noel seemed to have picked a new route, a mystery tour of the western suburbs through Sunshine and Footscray, a distinct improvement on the rest of the day!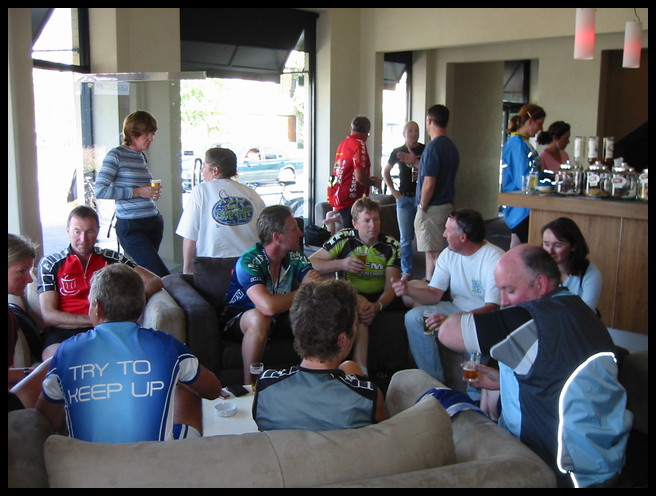 Jo and I had been intending to ride straight home then drive back, hunger got the better of us — just after passing all the smells and sites of Footscray and its bakeries — so we headed down to South Melbourne to the pub and hopefully for food. Unfortunately we were early, and had to fill in the time with a beer or three, then some food, then a ride home. That last twenty kilometres out to Oakleigh is quite a way at the end of a day after the beers!
Home, changed, then back in the car to pick up the bags, say our goodbyes and head home to rest! Another Easter over, another Deadly Treadly ended.