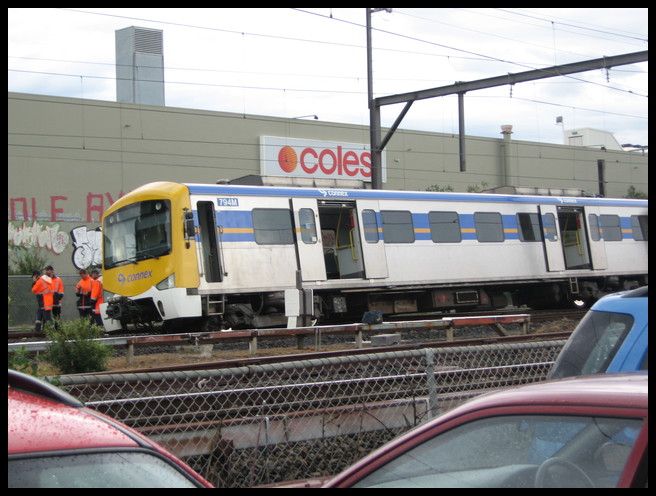 An exciting morning, first we woke to the very unusual sounds of thunder, hail and rain on the roof — all very welcome in the drought and with Melbourne's water storage dipping below 30% of capacity for the first time in 40 years. Next, Jo went out to pick up the newspaper and came back in with the news that a train had derailed itself just out of Oakleigh station, right outside our front door.
Connex sent out their SMS warnings that no trains were running between Springvale and Caulfield, and with thoughts of how hellish the replacement buses would become I offered to drive her the 5km to Caulfield…. Its a very long time since I've driven anywhere in morning peak traffic and yet again I'm reminded why, creeping and crawling along, fifteen minutes stuck in a log-jam on Murrumbeena road, people hooting, people swearing, people pushing in. One of the major annoyances was sitting in that logjam while the boom-gates on the level crossing were down and watching three trains full of people go past from Oakleigh to Caulfield — these were the trains that Connex had told us didn't exist!
Finally got Jo to Caulfield, then re-entered the maelstrom and crawled my way back to Oakleigh, ran inside to get the bike and tried to refresh myself on a routine ride to work. An hour to drive the 5km to Caulfield and back, then fifteen minutes for me to ride the bike the same distance to Clayton!