Some time in the second half of last year we realised that number one son really had outgrown his 24" bike, the seat was up as high as it would go and his knees were wobbling wildly out to the sides. Upgrade time it was. Trouble is, he's just as likely to shoot up in height in the next year or so and make any newly purchased 26" bike undersize, so with a definite "Aha!" moment we decided to re-purpose Jo's retired Norco Magnum that had been sitting languishing in the shed since she bought her new mountain bike in 2013. It has a small frame and with a little tinkering would fit the boy.
Here's one of the earlier photos I can find of the Norco Magnum, my Java and the inbetween model Mocha belonging to someone we met: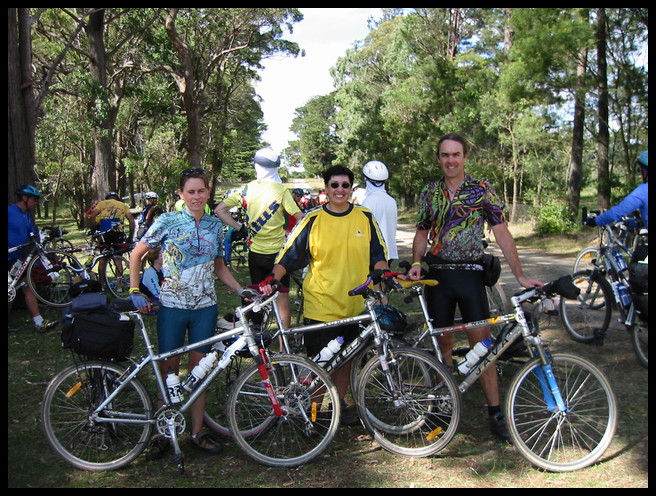 So out of the shed came the Magnum for a cleaning and an oiling, tyres and tubes were scavenged from miscellaneous spares. The front wheel on that bike is already the original front wheel from my Norco Java, it was transferred over sometime around 2001 when I upgraded my wheels. Pedals from a big pile of pedals were the original platforms that came on Jo's new mountain bike. A seat located and installed – one of the original seats from the Brumby tandem. Moved the bars down a spacer or two and lowered the seat and et voila, the lad has a bike with quite a heritage.
Sensitive to any feelings that he was being fobbed off with "mum's old bike" it was clearly named as his and as being rebuilt and refurbished, Jo confirmed that it definitely isn't hers anymore when one day she tried to ride it and it now feels completely different.
Since then a few more changes, he wasn't happy with the mismatched 1.4" slick (GEAX) front tyre and 1.5" slick (IRC Metro) rear so we hunted around and found a rather elderly pair of Panaracers – a Smoke & Dart – just like all the cool kids were running a decade or two ago. Not entirely sure how long they'll last, but they've been sitting in the dark for a while and don't appear too cracked or worn.
Out for a test ride on the new tyres through the gravel tracks around Huntingdale wetlands, a confusingly simple fall resulted in a snapped bar-end. After somehow surviving unscathed the 22 years from 1997 to 2019 including trips to New Zealand, the UK, France, Switzerland and Italy as well as interstate in Australia, today he snagged a bar end on a trackside tree branch, flipped around and crashed in the dirt and snapped it in half. New bar-ends required – or bull-bars as he insists on calling them – so the shed was revisited and the even more ancient pair from Norky bike transferred across, requiring a beer-can shim to make them fit on the bars.
So here it is, not quite grand-father's axe, but certainly getting there, but more importantly, the new owner seems well pleased with the result.
ps. The 24" Giant Veer is for sale if you're interested.