| | dst. (km) |
| --- | --- |
| Today | 88.7 |
| Trip total | ?? |
| Odometer | 1959.4 |
After breakfast there was a flurry of activity in unpacking and making ready the twenty bikes. The hotel had very nicely given us the use of their conference room to avoid having to do all this outside. I was lucky here, after a month on the road, everything on my bike was sorted out as well as it could be!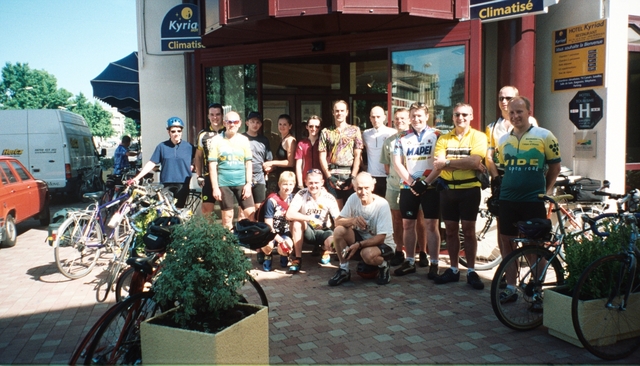 After an initial group photo, it was off on the bikes. The first day touring together with other people. I found this a vast relief as I'd been getting quite lonely at times.
After riding on almost empty roads all day we headed through St. Emilion to where we were camped on the far side of the town, then we all piled into the car and van to come back in for a magnificent meal in a restaurant courtyard. Great food, good wine, good weather, good conversation — it really felt good to be here.
Where?
Bordeaux, Cadillac, Rauzan, St. Emilion