Woke to a cool gray day and light showers — the heatwave has broken, but obviously not with the semi-tropical thunderstorms the forecast had us believe.
Late in the morning I scurried into town in the drizzle to pick up a postcard for Tuesday (oops!) and then hopped on the train to Bath. I can't make sense of the ticket prices, they seem one of the eternal mysteries of this trip. Some seem quite reasonable, others ludicrously expensive. Yesterday was £8 return to Oxford, today is £20.50 return to Bath, and all the tickets have different names "Cheap Day Return", "Supersaver return"… whatever they all are. Not even the staff seem able to figure out which one I should buy in order to get to where I want to go for the cheapest price — maybe that's the idea.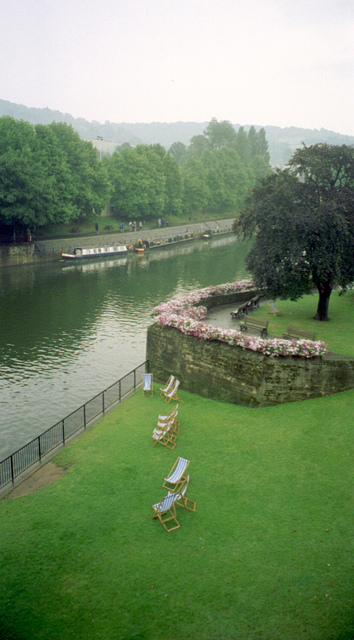 Spent the afternoon having a more leisurely look around Bath than the last time I was here, cathedrals and old buildings, museums, shops and redevelopments. The optimistically placed deck chairs sitting by the river in the drizzle.
Where?
Reading(51.4333333,-1.0) Bath(51.3833333,-2.35)