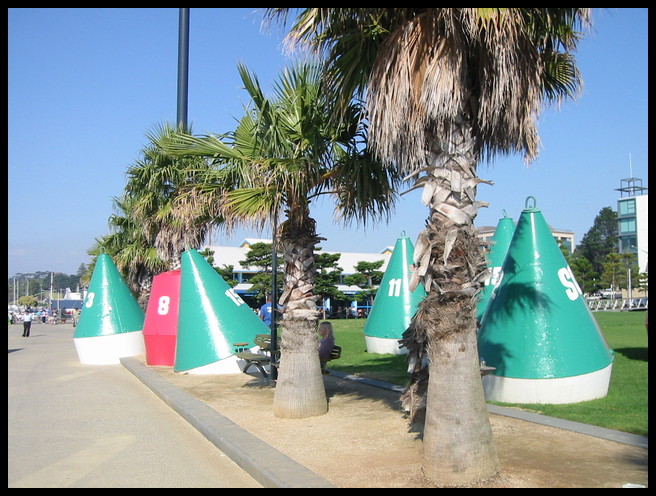 The intention was to leave in the morning and drive west to visit the Otway Fly treetop walk, then head back along the coast to stay the night at Lorne. A long breakfast, too much sitting around chatting, and a stroll around the local shops meant that we didn't leave Oakleigh until noon! A quick change of plans and we headed straight to Geelong and spent the afternoon wandering around the waterfront in strangely summer-esque weather. I guess Jo and I will have to visit the Otway Fly some other time!
On the waterfront the hire businesses were all in full swing; we could have hired a tinny (an aluminium dinghy), gone for a ride in a jet-boat, a cruise boat, or even a helicopter! One enterprising operator has brought his helicopter down from Darwin and was taking joy flights around from the wharfs for $33 a head. We resisted them all and settled for a long, leisurely, if somewhat late, lunch overlooking the bay.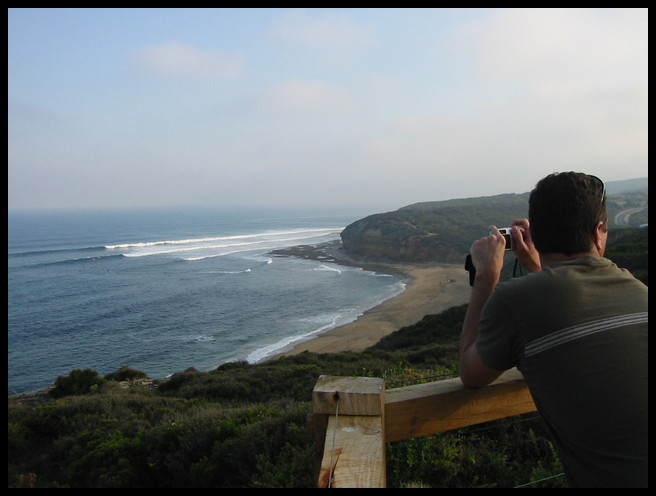 From Geelong we headed off to visit Bells Beach, a place I've somehow managed to go past a hundred times, but never actually visit. The beach is just far enough off the Great Ocean Road to make it too much of a detour when I've been riding past, and when we're driving we've either been wanting to get to Lorne, or to get home. For all its reputation, the beach looks remarkably unspoilt. Many cars in the car-park at the top of the cliffs, and many surfers out sitting on their boards, but due to the length of the walk down the stairs, there were no other people on the beach itself.
Evening was closing in as we left Bells and headed west, smoke from fires and the dusk making it harder to see the view. We arrived at Lorne in time to reintroduce the two sets of parent's in law to each other, then all sit down to eat and drink our way through the evening.