OK, here's a mere mortal's view of life on Sunday.
| stats. | |
| --- | --- |
| Distance | 132.8km |
| Average speed | 19.98km/hr |
Short version:
Imagine sitting in the oven and applying a belt-sander to your arse for eight hours.
Long version:
"Only" the 130km option, Jo and I were planning on doing it on the tandem, circumstances intervened and her lack of riding over summer completely offset the shiny new bike she'd purchased for training on, so it was just me. Somewhere around Christmas pudding time I think I realised that I too had failed miserably in the training arena…
7.20 am start, suspiciously warm, Chris and Annette saw me as they were leaving on the 140km, I was just trying to keep my eyes open after being awake on and off since about 2 am, first with locals gambolling home from the pub, then only an hour or two later with all the motorcyclists starting up to go out and marshal for us.
Seemed to find myself with the same group of four or five guys throughout the day, regrettably one gent in a Rabobank top who ponged something 'orrible, even at 8 in the morning!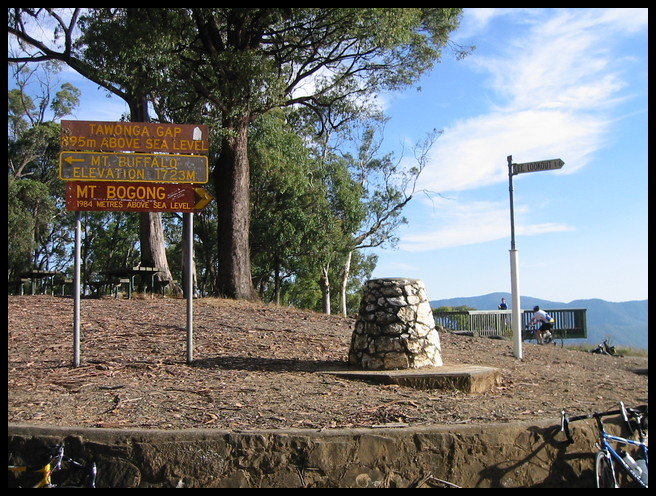 8.30 am at the top of Tawonga, I think I was still smiling. Nice view, pleasantly warm, lots of forest. Today I decided I like trees, the bigger and shadier they are, the more I liked them.
Weeee down the other side, a fair bit of traffic of other riders, some two or three abreast making life kind of interesting. An ambulance in attendance at one of the corners — I think it was Lawler's spring — where someone had failed to negotiate the bend.
Rolled on through Tawonga town and the assorted turns and odd bits of road before stopping to be briefly shouted at by a marshal (for failing to levitate off the road) and refilling my bladder, um, backpack water thing. On to the roundabout, signs pointing off for the 80 and 140km options, nothing for the 130 and 200, I guess we were just meant to know.
Long haul up to Falls, trundling along at my own pace, was passed about six or eight times by the same four or five people, I guess they had to keep stopping to rewind the rubber bands. A quick wave to Evan as he passed in the opposite direction, ably assisted by gravity and rice pudding. Was kept company for several kilometres by two young ladies from St Kilda (I think) until they got bored and departed up the hill.
Fun and games with a few 45 seater tourist coaches going up the hill, the drivers trying to pick their way around the ascenders, while trying to avoid getting the descenders in through the windscreen.
One heart-wrenching moment approaching a corner as three descenders came around, the first two passed in a blur, the third suddenly stood his bike up and to screams of "Oh fuck, oh fuck, oh fuck" headed straight across the road towards the gravel, me, and the long drop, swerved back and shot back onto his side of the road about a metre in front of me.
Saw Dennis stopped just before the Falls gatehouse, his rigorous training regime had worn away his rear tyre and so he was stopped waiting for spares. A quick hello and then the last two or three kilometres up.
Hmm, what happened? I was completely knackered and could barely move. I was seriously thinking that I simply could not get to the Falls Creek checkpoint. I could see it, but had totally run out of energy.
A very long time passed….
I think it was 11.30 am that I arrived at Falls Creek, gratefully stepped off the bike and was squirted with spray from the hose. Muffins, orange quarters, a banana, another muffin, a couple more bits of orange, inhaled a powerade, wondered where it went, had another muffin, decided that the orange quarters were OK and had a couple more, then had a drink of water.
Felt better.
12.00 noon. Reapply sunblock, smearing it all into a nice gooey consistency with the mixture of dirt, sweat and old sunblock. Should keep the UV at bay, and if I fall off will help me slide off the road….
Fed, watered, rested, and now heading in a downhill direction made a big improvement in my life. I'm not one of the worlds fastest descenders, but several hills worth of following Dennis and Evan must have improved something, because I kept on passing individuals and groups on the way down. A slimy patch of melted tar on one corner reminding me to slow down a little for the rest of the way.
Out on the flat towards Tawonga it was now hot. I was not looking forward to the second ascent of Tawonga gap. Seven kilometres, a water stop at 2km and a spring 2km from the top should divide it neatly into three — I thought. Turning onto the road up the hill I had to have my first little rest, a minute or two under another of my shady trees. Then on to the first water stop — it arrived blessedly quickly, more cold water and mist sprays, then the very demoralising message that they'd told us the water stop was 2km up the hill but it was really only 1 and a bit, so there was a lot more hill than I expected. Bugger. Not sure how I managed to get up to Lawler's springs, I was stopping every kilometre to rest, then nearly every half kilometre, any time there was some shade.
Somebody shouted out that his HRM was telling him it was 49.8 °C out here on the road alongside the rock wall. Not sure I needed to know that.
Collapsed on the ground under a last bit of shade and someone told me that she could see the spring just around the corner, so picked myself up and went and stuck head in cold water. Most enjoyable. Less enjoyable was the large ant bite from not checking which bit of ground to lie on. A couple of clouds even passed over, dropping the temperature momentarily and causing a cheer from the eight of us at the spring.
After cooling down, the last couple of kilometres up were OK — a small celebration being held internally when the speedo indicated I had gone from single digits back to 10km/hr, then even more, back to almost normal!
More blissful descending through the forests back towards Bright, hardly any other riders to be seen. Then turn back onto the Bright road for the last five kilometres to town, into the increasing hot headwind — oh yay!
Waahoo, 3.30 pm and I was back at the tent, very nearly knackered. Handed in my brevet card and started on more oranges. Just about stepped on Dennis, all my concentration was on the cold drink and more quarters of oranges, he and Leanne pointed out that there was a large, wet and cool river nearby and why didn't I go and sit in it. A very good idea. I sat.
6hrs 39 minutes on the bike, 8hrs 14 by the clock. 19.9km/hr average for the riding time.
No, it was not fun.
Today's photos
See the photos page.