Browsing through old photos and old blog posts I came across some of my photos of Richmond from 1998-2004 when I lived there, and more importantly, from 2003 onwards when I had my first digital camera.
How much has changed since then? Time to go and take a look, perhaps a revisiting of all the is called for….
An easier first target is 500 Bridge road, it was a beautifully craft-filled shop, "The Violineri" – what has it become now?
Surprisingly, I found today that The Violineri is still in business at another location, although I suspect that Brenton is no longer the full-time boss. I also found that for years I'd thought that the name was Violinery with a y.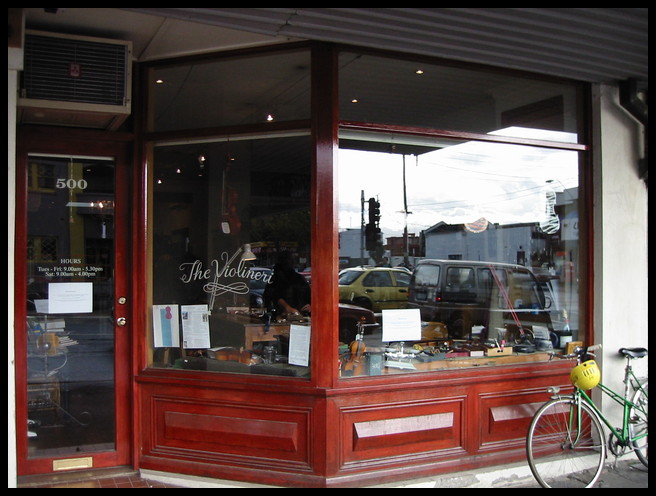 An early escape from work on a Friday afternoon two weeks ago, a ride in to Richmond and a few photo stops along the way and there I was, back outside 500.
Yet another cheap massage place, over the last five or ten years they've sprung up like mushrooms in every strip of shops around Melbourne. Call me naive but I can't for the life of me figure out how they all stay in business, or what the business model is – are they all fronts for cash-in-hand underpaid overseas workers on student visas, as seems to be suggested by most people I ask.
The timber front remains, painted over with black enamel, the inside stripped out and brightly lit. The airconditioner over the door hasn't changed. What will be there in another 15 years?