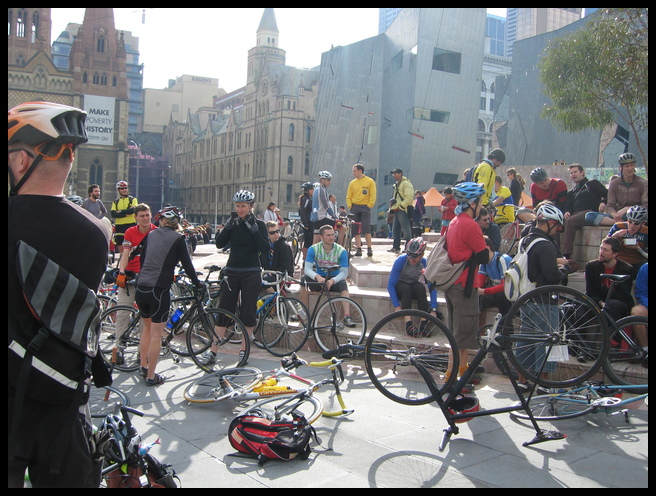 Yes or no? Will we ride into the city for the second Melburn-Roobaix or not? it was heaps of fun; a day out riding around the city with all the more interesting cyclists you can find, single-speeds and fixies of all shapes and styles, together with all the other more ordinary bikes… but last year the weather was great, and this year is different…. Its been four days now of icy cold rains, alternating showers, clouds and sun.
Woke to a very cold, but cloudless clear day, an omen, we shall go. Bacon and eggs and shopping and coffee and home and get changed and go! — the couple of hours before we needed to leave vanished in a bit of a blur. Out the door at at 11:00 on the tandem, bound for Federation Square and a noon start….
A supposed noon start… a lot of standing around waiting, the clouds thickened and a gentle mist started falling as people began to feel the cold. Thoughts of coffee, thoughts of schnapps, thoughts of a warm pub and an afternoon in front of the fire….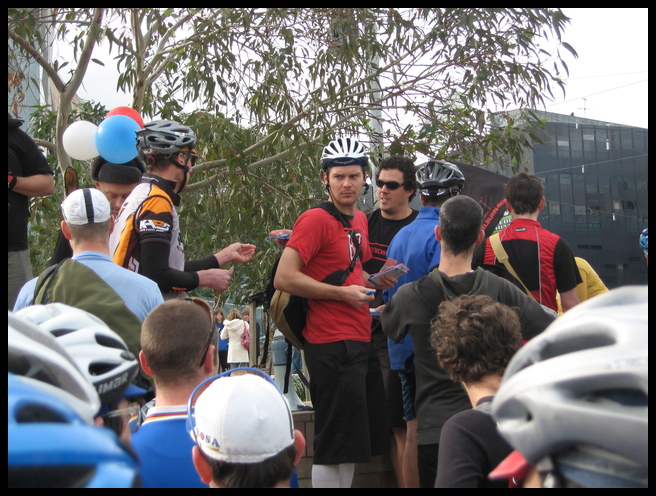 Finally time to queue up for registration and instructions over the megaphone; "See this guy with balloons on his head, find him, shortly we'll tell you where he his and you'll go find him. Then you'll get your route cards, then at each checkpoint find the balloons and stamp your card!" Ugly rode off and there was more waiting while people started trying to second-guess the first checkpoint, "to church" Jo guessed Rod Laver arena, where the Mormons were meeting, but no, it was light tower #3 at the MCG, the mighty church of football.
Take care everyone, play nice, watch the pedestrians… and we were off, en-masse around to the river and on all sides of bemused pedestrians, through Birrarung Marr, past Circus Oz and up over the footbridge to the MCG. Two hundred people on bikes picking their way around the stadium as several thousand on foot arrive for the St Kilda Collingwood match! Shouts come over the PA telling the cyclists to slow down, pretty much all travelling at a walking pace anyway and I couldn't see any close calls — just the footy people wanting to appear in charge of this new oddity.
Here's your map, thirteen checkpoints and a finish at Brunswick Velodrome like last year. Nothing over near Richmond this time, but checkpoints #1, #2, #2 and #3 are down to the south of the river — yep, there's two number twos, but thats OK because number four is missing.
A few minutes to work out a plan of attack, then down to the river and over Morrell street bridge, the first point challenging as Jo and I had no idea where "Airline Bank lane" was — chancing on following some others, sadly picking the wrong others! A bit of crossing back and forth and we found the bottom end of the lane of dreaded pavé — the first of the thirteen cobbled lanes. Started up the climb and all was going well until the timing chain flew off the tandem — that's never happened before, and its definitely not meant to happen today! Quickly slipped it back on and got it mostly right, one tooth out I think, then slithered our way up the hill on the wet cobbles to the first checkpoint.
Easy route from here to #2, down around Albert Park via Domain and Kerford roads then left into Little Page street and block after block of endless pavé — we'd come in at one end and the checkpoint was right at the far end — a bit of sneakiness with the grid reference of the checkpoint not matching the house number, forcing a few blocks of extra pavé! One of the number twos complete, now for number three! A little light had come on and Jo suggested that we use the sealed road parallel to Ashworth street, then cut across when we got to the far end — 'tis a wondrous thing having a clever navigator on the tandem!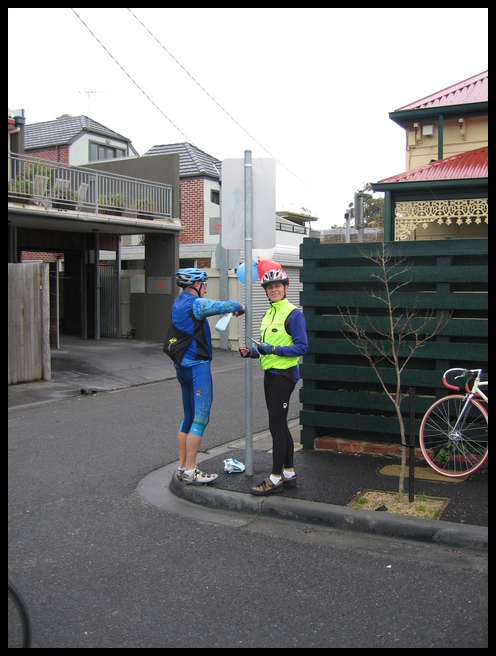 Checkpoints three and two and now time for the other two; thoughts of Stuart O'Grady's win in the Paris-Roubaix as we rode up O'Grady street (sealed), parallel with Little O'Grady (pavé). A bit like a movie chase scene — at each cross road we could see riders who gone for the more classic route riding the length of Little O'Grady.
One third done and there was nothing left south of the CBD, the next few points are all in the city — almost unknown territory for me — but easy to get to, simply follow the trams…. Unfortunately it was as we were passing through South Melbourne that the fickle finger of fate struck — the dreaded puncture fairy. One punctured tube and one spare tube is happiness, two punctured tubes and one spare tube and icy rain and two thirds of the event still to go is not so good. The nearest bike shop I could think of was over on City road, but when we got there we found it had closed up and vanished. This was a definite sign from above to head for somewhere warm for a bowl of soup….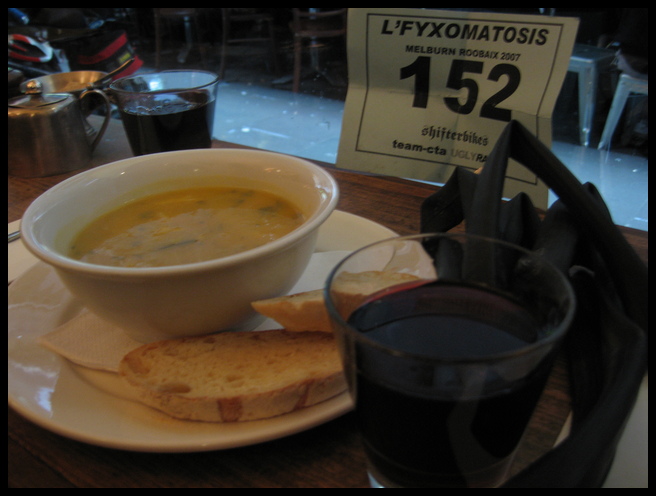 Up City road on foot, wheeling the big blue beast, then back across the river, then it was up to Degraves street for hot soup, red wine and strong coffee. End of the Melburn-Roobaix for us for 2007! Maybe next year we'll come better prepared, either way, many thanks for the day's event to the guys from http://fyxomatosis.com/ to any of the 195 starters and who finished.
There's also a few photos on Flickr and the route from the GPS on motionbased — see, we didn't really get lost!