Cold, damp and foggy morning. It reminded me of Canberra winters.
After briskly doing the rounds of the Richmond market, stocking up on vegetables and dodging small children and wildly erratic grandmothers with trolleys, we adjourned to a newish café to try out their breakfast.
Via Ponte; not a very original name for an establishment on Bridge Road, but the staff are friendly, the fire is warm, and last weekend we found that the coffee and pasta were good. The breakfasts were just as good, bacon, eggs, toast, sausages, tomato and coffee all for under ten dollars, and friendly service. Definitely a place to become a regular customer at!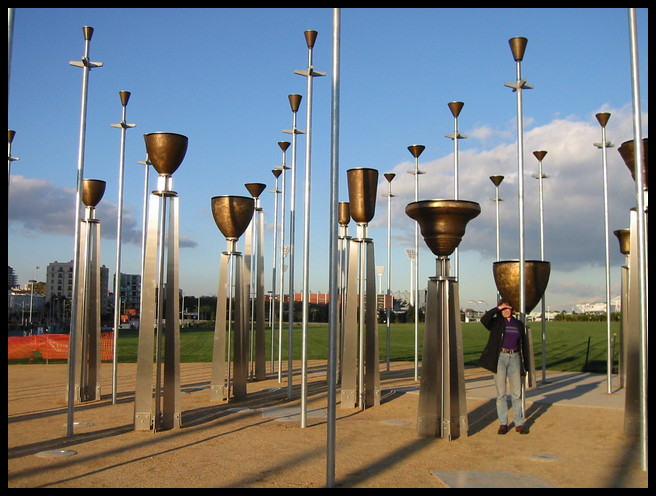 In the afternoon a walk in the vague direction of the Botanic Gardens ended up detouring all along the river and turning into an exploration of Birrarung-Marr, the new riverside park between Swan Street bridge and Flinders Street Station. Looks a little forlorn in the cold of winter, nobody knows its there yet, and its still partly landscaped. We played around the Federation bells, but they're designed to only be played by the official mechanism from underground, so the only sound they made was a dull thud when Jo accidentally walked into one of them.
Along the way we saw the last four minutes of a football match at Olympic park. The most interesting part was trying to work out exactly what we were seeing, since the only bits visible was the back of the crowd and the tops of the goals. Apparently it was Melbourne Storm losing an ARL match to the New Zealand Warriors.
Another first, since the walk into the city had made us thirsty, we stopped for a beer at Young and Jackson's, something we'd been intending to do ever since I'd revealed to Jo that I'd never been there.
Finished off the day by a late night out to see the Black Eyed Susans at the Tote. Embarrassment on both sides when neither of us could remember exactly where the Tote was, it not being on our regular list of venues, but we found it where we guessed it would be, then had to endure several hours of the thickest smoke in a venue that I've been subjected to for some time. Having had a large dinner with a couple of glasses of wine, we started out tired. Arriving there around ten-thirty and the Susans didn't start until nearly midnight, so when they called it quits we were quite ready to hurry home. Even so, it was a good night, the support band was excellent, and the Susans played well.