| statistic | |
| --- | --- |
| Today | 124.2km |
| Average speed | 22.7km/hr |
| Riding time | 5hr 27' |
An early start, out of bed at 05:45 for breakfast and to drive down to Geelong, every second car on the freeway seemed to be carrying bikes. With no idea how crowded it would be at the ride, we parked in the first car-park we came to and rode the three or four kilometres to the Botanic gardens — an unnecessary precaution as it turned out, but a good way to check the tandem and warm up a little.
…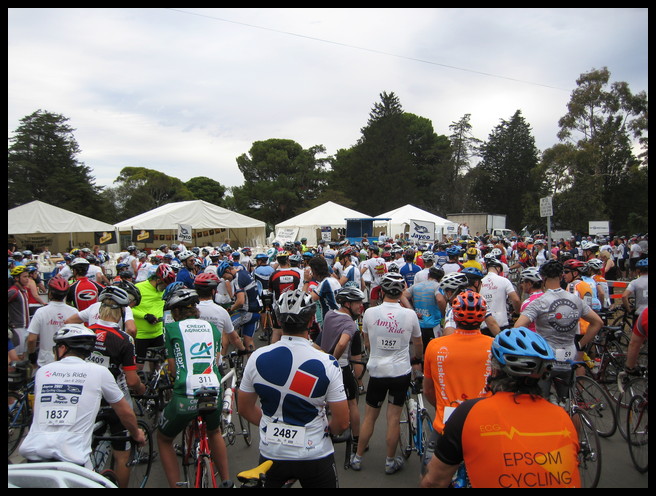 Out on the road it was very hot and very windy. Since we were doing a loop of the Belarine peninsula, at various times the wind hot north-westerly managed to hit us in every possible direction. At times we were cruising along at 45km/hr on a flat road, at other times slogging it out at 15!
Lunch was grabbed from the Seabreeze general store, just outside Point Lonsdale. I think the couple who were running the place must have thought the gods were smiling on them — several thousand cyclists streaming through buying up an eating everything they could!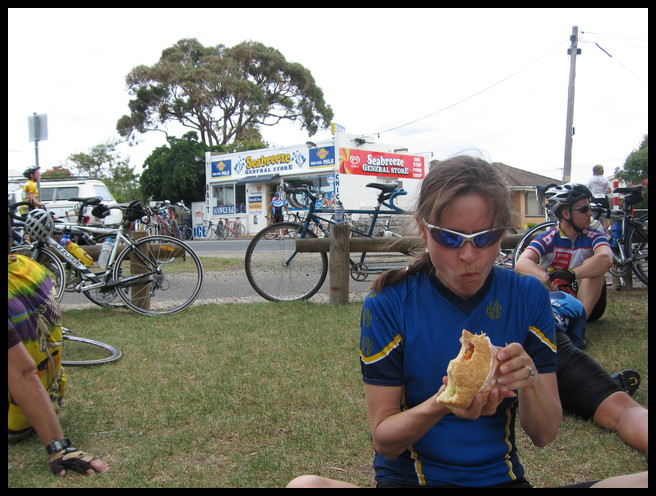 The weather turned against us as we finally came back into Geelong, the wind swinging more to the west and rain starting. Caught up with a few friends and grabbed a huge tasty burger, then a beer, then took shelter under the awning of a marquee as the storm front hit. Horizontal rain and howling winds quickly dispersed the riders as they arrived, few stayed to watch the riders warming up for the criterium later in the evening. As soon as we'd finished the beers we extracted the tandem from its parking spot against the fence and rode back to the park where we'd left the car — almost being knocked flat by the next wind storm as it came through!